Launching Our New Book
SYNOPSIS: Death of the Product Pushing Snake Oil Salesman.

The species known as the Snake Oil Salesman, sadly, is in rapid decline, almost dead in modern business. The geezer who could sell sand to Arabs, ice to the Eskimos and coal to Newcastle is a thing of the past. There were some real doozies out there (and still are), but customers are smarter now. They want the product to work and produce results. Value for money – not some silver-tongued shyster who's full of false promises. Long live the Sales Professional!
The book is out now - August 2014
13 chapters
Paperback -
Available in Singapore, delivered via post. For international delivery, our book will be available on amazon in September
SELLING ISN'T TELLING, TELLING ISN'T SELLING
In this practical, book of proven selling techniques I show the stages in bringing in new customers and making sure they stay with you. You work as partners to:
1. Open the deal.
2. Close the deal.
Take your prospects and customers through these steps in a genuine way. When you see selling as a partnership where you look after each party's interests, you are in the best position to win the business and keep it. It's all about how you think and behave
Death of the Snake Oil Salesman book is now available for sale
Order online now and we will send you the book within Singapore, via post.
Want to catch a sneak
peek of this eBook?
What people say about the book
" It is refreshing to read a self deprecating and satirical business book "
-
"Very interesting! I was laughing very loud because I have seen myself in the book, even though I was not a salesman. Well-done, please keep writing because your real life experience makes your book more relevant to any reader"
-
" I didn't know a book on sales could be so enjoyable! "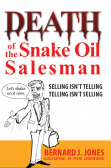 Pre-Order NOW - Only SGD$19.90!
If you need any help, please contact us at
kathy@goimpact.co  /  bern@goimpact.co